About This Book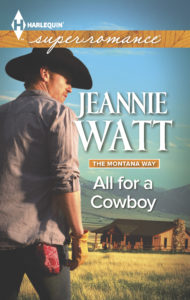 Shae McArthur once had it all. Perfect job, perfect fiancé. And when she lost everything, it was her own fault. Now she's starting from scratch with one last project—turning the Bryan Ranch around. If she succeeds, maybe she can pick up the pieces of her former life. The only problem is the ranch's stubborn—and captivating—owner, Jordan Bryan. He's fighting Shae on every change. What gives? True, his scars prove Shae's not the only one starting over. Still, shouldn't he, of all people, be able to see beyond the surface? Because she thinks maybe they could be each other's perfect new beginning…. RT Book Review:  4.5 Stars…All For a Cowboy is a delightful story about finding unexpected love….
Excerpt
No. Way. The rodeo queen? Something else he'd held in his brain without realizing it. The memory of the high and mighty Shae McArthur's face—living proof that beauty was only skin deep. There'd never been one thing about her that he'd liked during the years they'd been on the rodeo team together…except for maybe the time she'd come on to him. He'd enjoyed her utterly shocked expression when he'd turned her down cold.  She'd needed to be knocked off her high horse and he'd been glad to do the job. Literally, in fact. "What are you doing here?" he demanded. Shae blinked as he spoke, letting her hands drop a few inches. He could see when recognition kicked in, followed almost immediately by a look of horror. Of course. Beauty and the Beast. Face to face. As he recalled, Shae wasn't too fond of the imperfect. Nothing but the best for her. "Good to see you, too, Jordan," she said huskily.