About This Book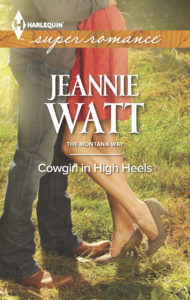 Her luck's changing for the better, …right?
Making the tough decisions has always been easy for big-city human-resources specialist Ellison Hunter…until a surprise pregnancy changes everything. Now it's her life that needs major reorganization. Putting her personnel expertise to use on her family's Montana ranch is the perfect escape—even if it means contending with ace rancher Ryan Madison.
His stubborn pride and loyalty to the staff? Those she can handle. But his sexy grin, cowboy charm and instinct to protect her and her baby catch her off guard. As attraction spins into something more, Ellie finds herself even further out of her element. But maybe, with Ryan, she's exactly where she belongs.
RT Book Reviews: 4 stars …This well-constructed story is filled with colorful characters and lots of sexual tension. The attraction between Ryan and Ellie is undeniable, and their interactions are fun to read.
Excerpt
Ellison came out of the house as Ryan was loading the tools in the back of the truck. Her chin was set high enough to indicate discomfort, but her expression was all business. She was wearing brand new jeans, a hooded sweatshirt and boots so new he was surprised they didn't squeak. Her hair was, of course, neatly twisted up and pinned to the back of her head.
"Ready?" he asked.
"Ready," she replied walking around to the passenger side of the truck. "My shirt's buttoned and everything. " She opened the stubborn Chevy door with a hard yank then drilled a look into him. "Why didn't you tell me?"
"I didn't know how to broach the subject," he said truthfully, getting into the truck.
"Plain speaking is the best way. Hey, your bra is showing."
"I'll keep that in mind."
Ellison frowned at the dusty interior before gingerly climbing into the cab. "You can't go wrong with honesty," she added as she twisted around, apparently looking for the seatbelt that had been stuffed into the cracks between the seat for at least a decade.
"Oh, yes you can."
Ellison shot him another look. "All right, you can, but I want honesty."
"All right," he said, hoping she never asked him if her butt looked big. It didn't, but all the same… "You're not going to find a seatbelt," he said, dragging his thoughts away from her butt.
"Oh." Ellison gave up the search, clasping her hands loosely in her lap and turning her profile to him. She looked jumpy as hell.
"You don't need to be nervous, you know."
"I'm not nervous," she said in a scoffing tone.
Ryan shook his head and put the truck into gear. So much for honesty.  "Hang on," he said, putting the vehicle into gear.
"It's going to be a bumpy ride?" she asked, her gaze still fixed straight ahead.
He cut her a quick sideways glance. "Yeah. I have a feeling it could be."